Painting - Pets portraits

Gallery of Dog Paintings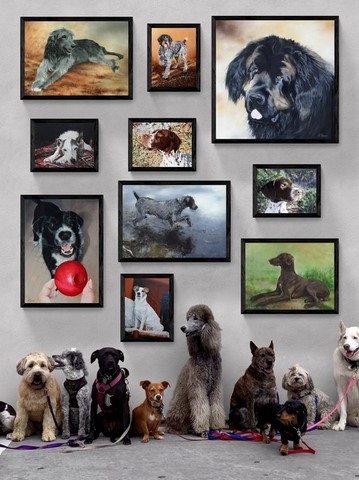 Whether they are purebred with a beautiful pedigree or just plain old goats, little puppies or old doggies, shorthaired or longhaired, regulars in the kennel or on the couch, our dogs are great pets that offer endless affection and love to their owners. Having a painting of your everyday companion at home is a nice tribute to the years of complicity and to be sure that he will continue to accompany you throughout your life. A painting that will remind you of an attitude, a look, a unique memory.
Gallery of Cat Paintings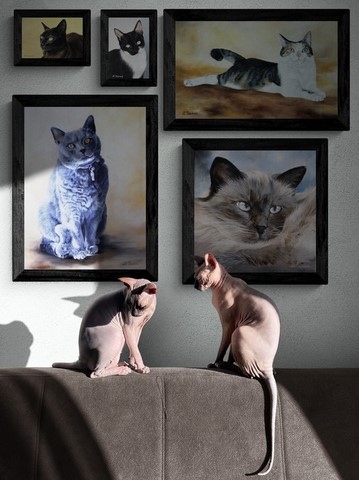 A simple meow or purr and your cat communicates its feelings or desires. You understand each other. A unique complicity between your little feline and you. Who has never observed the affection and tenderness of a cat towards her kittens and the look of love she gives to "her human" at that moment. Or a big cat that rubs against the legs of his master in search of attention, caresses. And above all, who has never had the desire to dip his fingers in the silky coat of a cat. Every owner knows that. A painting can transcribe all these emotions and remind you of them forever.
The animal artist Laurence Saunois and the Dogs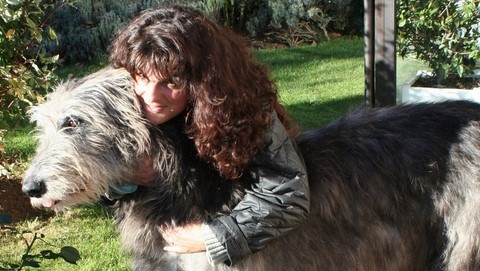 Dogs and cats have always been part of the artist's life.

Our pets are often full members of the family. This is why, behind each of her oil paintings on canvas or panel, there is always an encounter, a story, a particular emotion. An emotion that she wants to transcribe in the look of each animal she paints.

Discover her gallery of paintings on dogs and cats forever immortalized under her brushes