- ANIMAL ARTIST BY LOVE - GENERALIST ARTIST BY CHOICE - SCULPTOR

Born in 1966 near Paris, Laurence Saunois has always loved drawing. At 17, her mother decided to enroll her in the Beaux Arts de Paris. Her artistic file was accepted. Unfortunately, she was not 18 years old and her administrative file was refused. For 10 years, she did not touch a pencil. One Christmas day, a friend gave her an oil painting box, a canvas and some brushes. It was a revelation. She discovered color and the pleasure of painting. She tested all the pictorial techniques, realized a few paintings while working in large companies. In 1997, she left Parisian life to settle in the family house in the Lot and radically change her life. She restored her grandfather's old house, created a 6000 m2 landscape garden and discovered, thanks to the internet, the Society of Animal Artists in the USA, the oldest and most prestigious animal art organization in the world. For 4 years, she works at night and can thus, during the day, paint canvases that she will present in the USA. Her application is accepted. The adventure begins. In 2007, she decides to make her passion her profession.
She continues to exhibit in the USA and in many other countries. In 2010, she is elected International Artist of the Year at the prestigious BBC Wildlife Artist of the Year contest. She became a member of the International Guild of Realism in the USA and of the Taylor Foundation in France. The Art Renewal Center, the largest figurative art organization in the world, awarded her the title of Associate Living Master. Since then, she has never ceased to highlight the beauty of nature through her work.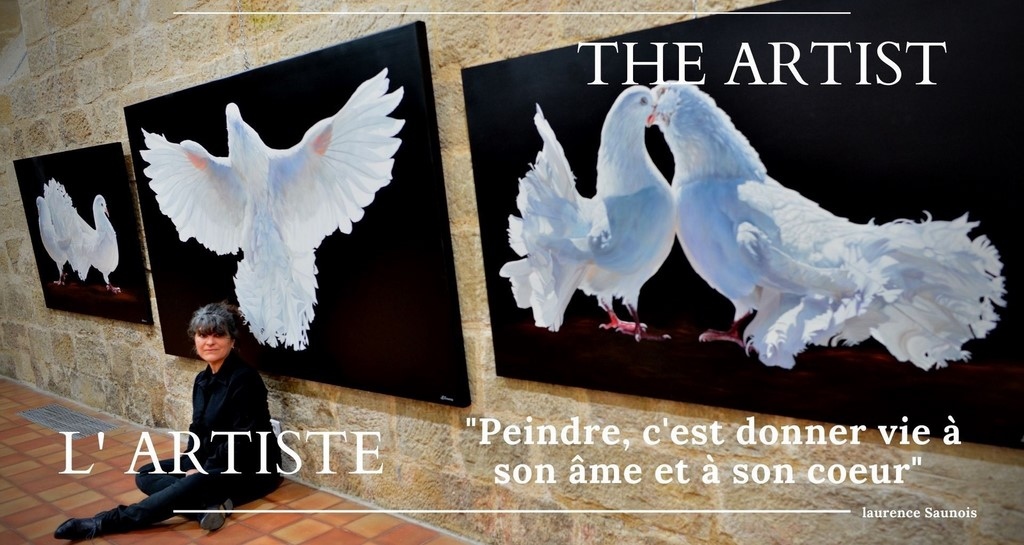 Self-taught, my love of art and passion for discovery gave rise to what I am today: an artist.
An artist who wants to constantly evolving, as indeed the world that surrounds and simply try, in her creations, to remember that what is more beautiful and more just. My path is often fraught with doubts, hopes, failures or successes.
Create brings me much joy but it is nothing compared to the joy of giving happiness and emotions.
Because art is above all this: to provoke emotions.
WELCOME TO THE ARTISTIC AND BOTANICAL UNIVERSE of Laurence Saunois, animal artist
In this video, she opens the doors of her studio to let you discover her artistic universe. She shows you the material she uses: her brushes, palettes, easels, lighting and her small cabinet of curiosities. Then the visit continues with the discovery of her garden which was awarded in 2011 by the Ministry of the Environment in the Ecophyto competition. This contest rewards good gardening practices, ecological and without pesticides, of amateur gardeners passionate about biodiversity. She draws her inspiration from her artist's garden and sometimes discovers her future subjects there. She also paints dogs, cats, horses and wild animals on commission. You can continue this visit by exploring her website. GOOD VISIT!
SOCIETY OF ANIMAL ARTISTS - SIGNATURE MEMBER
The Society of Animal Artists is a membership organization that produces the finest animal art in the world. SAA's mission is to promote excellence in the representation of domestic and wild animals in art. The artwork created by SAA members has set new standards of excellence in the fine arts. The SAA's annual exhibition and its traveling exhibition, "Art and the Animal," have become the standard by which all others are measured
.
(Society of Animal Artists)
Fondation TAYLOR

This Foundation is an association of painters, sculptors, architects, engravers and draughtsmen founded in 1844 on the initiative of Baron Taylor, a French playwright, precursor of the Romantic movement, art man and philanthropist.
Among these presidents:
1885 - 1905 : William Bouguereau, painter
1952 - 1971 : Édouard-Marcel Sandoz, sculptor and painter
INTERNATIONAL GUILD OF REALISM - SIGNATURE MEMBER

The International Guild of Realism aims to promote realist and hyperrealist art and to build bridges between today's best artists and international collectors.
ART RENEWAL CENTER - ASSOCIATE LIVING MASTER ARTIST

"True masters of the visual arts, they train and inspire the next generation of artists, researchers and teachers to protect, preserve and perpetuate traditional techniques with 21st century subjects". (Extrait du site de l'Art Renewal Center)