Meetings
Médecin spécialiste de nutrition et de biologie du sport, Jean-Louis ETIENNE a participé à de nombreuses expéditions en Himalaya, au Groenland, en Patagonie, ainsi qu'à la course autour du monde à la voile sur Pen Duick VI avec Eric Tabarly. En 1986, il est le premier homme à atteindre le pôle Nord en solitaire, tirant lui-même son traîneau pendant 63 jours. Lire la suite
J'ai toujours eu une très grande admiration pour ce Monsieur qui a pour devise de "Toujours suivre ses rêves". Il a influencé mes choix de vie et c'est avec une très grande émotion que j'ai fait sa connaissance et échangé avec lui.
Mylène Demongeot
It's a great lady of French cinema. In her career she has rubbed Louis de Funes and Jean Marais in the famous movie series "Fantomas". She recently turned into "Camping". Mylène Demongeot is a person with a big heart who loves animals. She is President of Honor of the Refuge de l'Arche Committee, a rescue center where animals live in peace.

Robert Bateman
Master Artist

I had the pleasure to meet him in San Diego on the 50th anniversary of the Society of Animal Artists and attend his lectures on art.
Adonna Khare
Amerinan Artist

This artist of great talent draws and stages animals in imaginary worlds.
Pierre Durand
With Jappeloup Pierre Durand went gold medalist at the Seoul Olympics in 1988. Both entered into legend. A film "Jappeloup" was conducted in 2012 on the extraordinary history of this unusual couple. Pierre Durand wrote a book about his adventure with Jappeloup edited with Robert Lafon Editions

David J. Wagner
Museum curator, Director of the National Tour of the Society of Animal Artists - USA, author and lecturer
Diane Mason
Sculptor, former President of the Society of Animal Artists - USA.
Diane is a very talented artist.
Chanee, Founder of Kalaweit
He achieves a remarkable fieldwork for saving gibbons from primary forest and other biodiversity that lives. He actively fight against deforestation and palm oil companies.
Muriel Robin, French actress and humorist is the godmother of the association.

ARC International Salon 2014/2015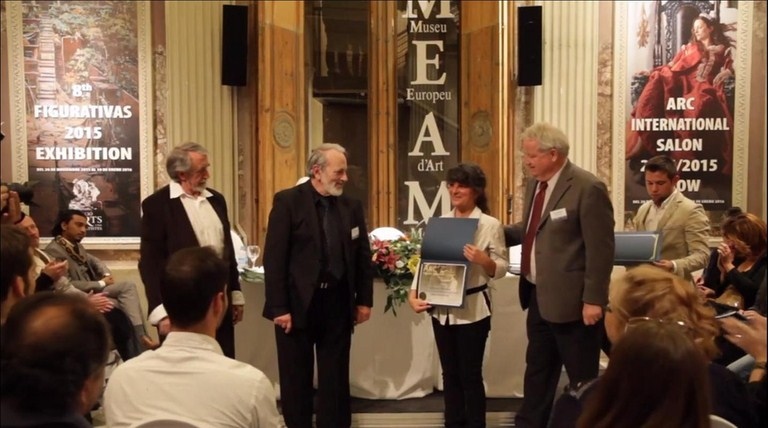 ARC International Salon 2014/2015
Visit of the Academy of Art of Barcelona - Spain
Roger B.J. Baron & Mylène Demongeot