Drawing and painting

ALL YOU NEED TO KNOW TO ORDER FROM THE ARTIST
How to choose between a drawing or a painting when you know nothing or not much about it? Here are some answers.
People who come to me for the realization of an artwork often ask questions about the main differences between drawing and painting. The support, the format, the framing or the price are the main elements to take into account to get an idea of what is possible or not according to your budget. I give you below some elements of answer which, I hope, will help you to see there more clearly. I remain at your disposal to guide you in your choices and advise you. Do not hesitate to contact me.
Black and White Drawing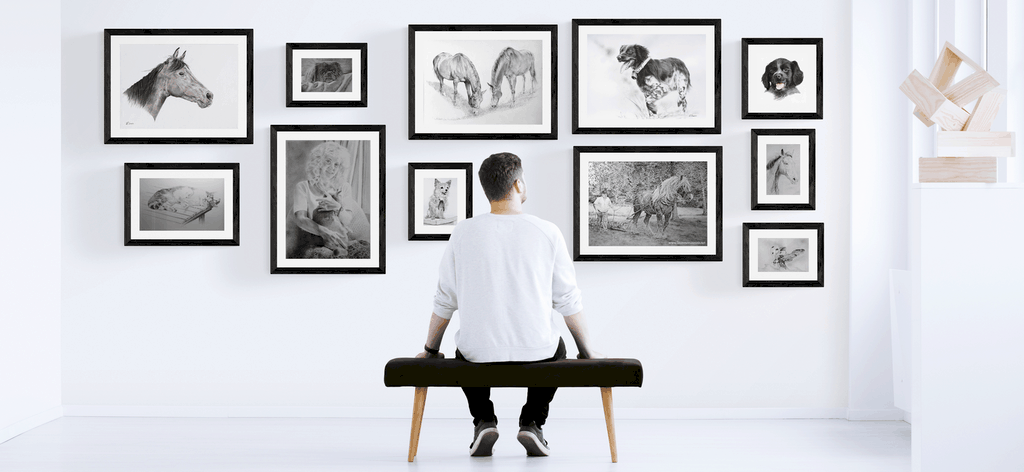 Color Paintings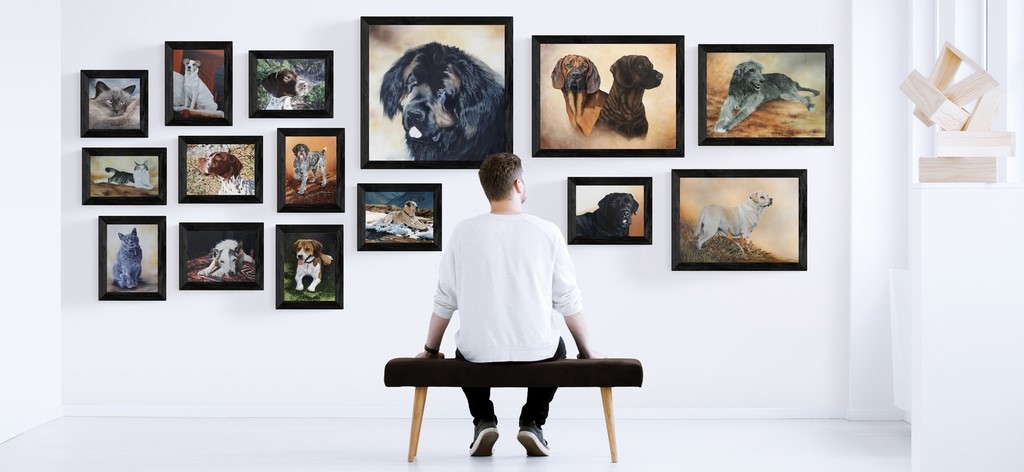 THE MEDIUM : WHAT DIFFERENCES BETWEEN DRAWING AND PAINTING

DRAWING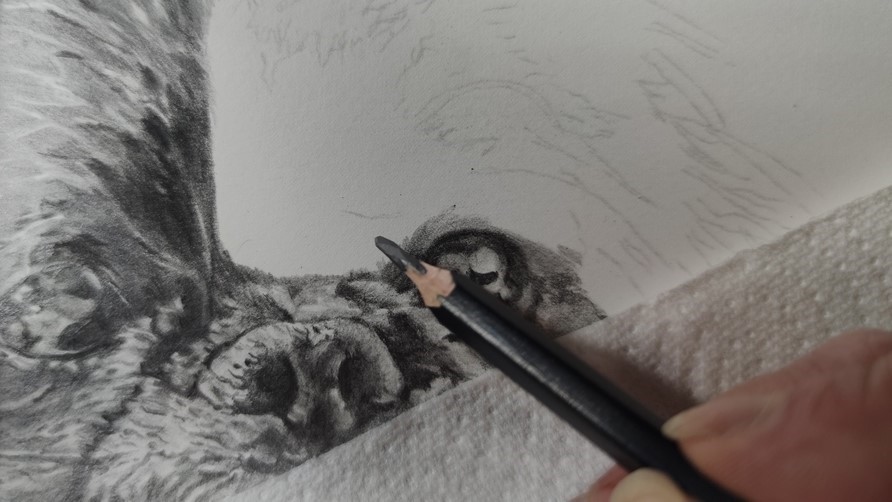 A drawing is most often done on paper but it can also be done exceptionally on canvas if it is done with Indian ink. However, a drawing is not more fragile than a canvas. It is simply different. Paper is not a rigid support so it will need a specific frame to protect it from dust and the passage of time.
PAINTING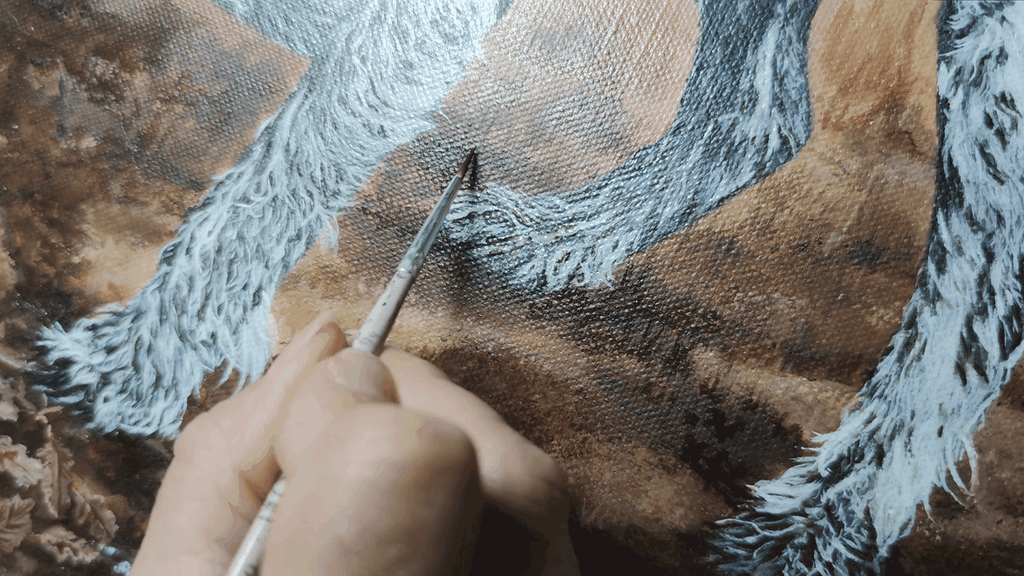 I do all my oil paintings on high quality linen canvas. I do not use cotton supports at all, which are much more fragile and often of lesser quality.
The canvas is stretched on a wooden frame and stapled to the back. Wooden wrenches help maintain the tension of the canvas at each corner. I sometimes mount my canvases when the format is not standard.
THE MATERIEL : USE THE BEST FOR MY DRAWING AND PAINTING

DRAWING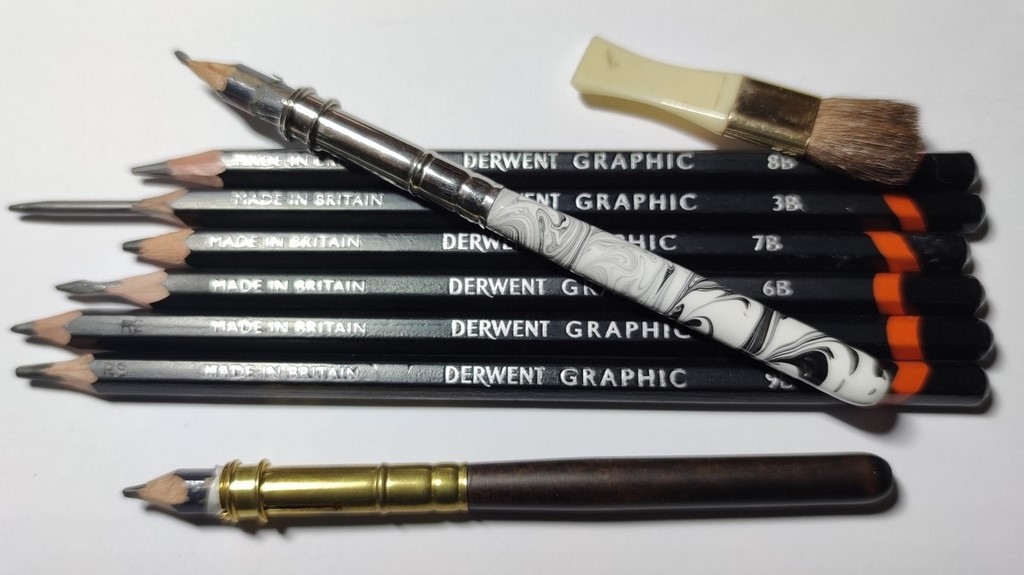 Many people (artists) know the English brand Derwent for the quality of its colored pencils rich in pigments. For my part, I use the graphite pencils with beautiful shades of gray. From the finest and lightest line to the boldest almost black line, all variations are possible. Associated with a quality acid-free paper with a fine grain, almost smooth, these pencils allow me to express all my creativity for the realization of drawings with subtle nuances and contrasts.
PAINTING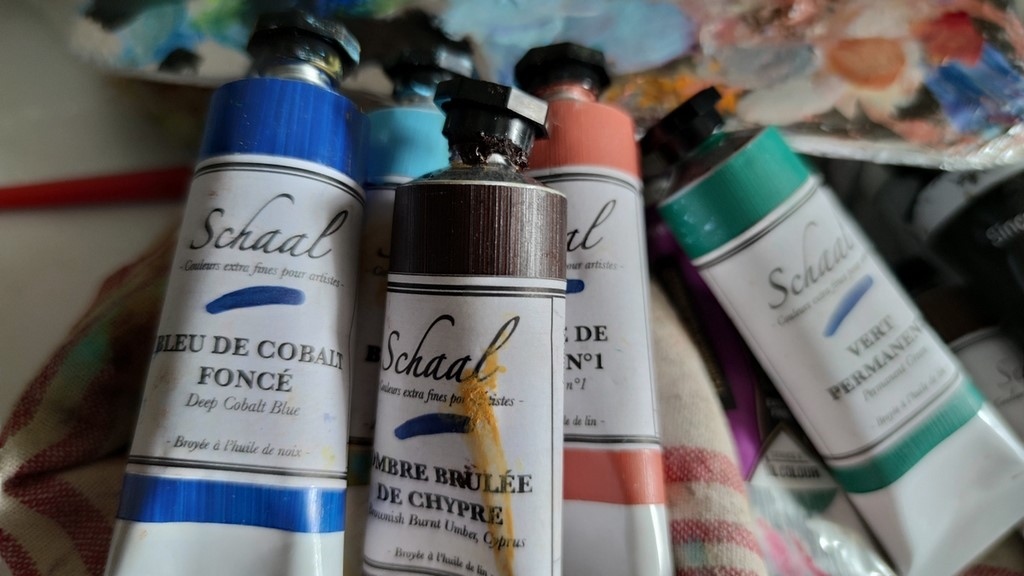 For my oil paintings, I use the best colors possible. Quality is essential. The pigment content and its quality, the smoothness of the material, the coverage or transparency of an oil painting are elements of great importance. This is what will allow you to have vibrant colors that will last over time. I use Schaal colors made by a master colorist who makes his colors in the traditional way.
THE SIZE : COMPARISON BETWEEN DRAWING AND PAINTING

All formats are possible, from small to large. Horizontal, vertical or square format, everything is allowed as long as the format adapts to the subject to highlight it. To discover all the possible formats and make a representation, go to the page dedicated to sizes.
DRAWING
The paper sizes are generally smaller than the canvas sizes for painting. Generally, my clients commission drawings ranging from 20 x 30 cm (about an A4 sheet of paper) to 50 cm x 70 cm or 60 cm x 80 cm. Larger sizes are also possible.
PAINTING
The sizes start with my miniature paintings from 6 cm x 9 cm to the largest sizes (over 100 cm x 150 cm) for my XXL paintings. The sizes of the stretched canvas I use for my paintings start from 20 cm x 20 cm. For smaller sizes, I use something else than canvas. Indeed, I personally find that for an optimum rendering, canvas on stretcher is not suitable. I prefer smoother surfaces.
FRAMING : COMPARISON BETWEEN DRAWING AND PAINTING

I use, most of the time, standard sizes. Therefore, you can find frames of satisfactory quality in the shops without having to hire a framer. Nevertheless, you need to have some basics for a successful framing. If you don't feel brave enough to do your own framing and don't want to go through a framer, I offer a custom framing service. Your drawing or painting will arrive at your home ready to be hung on the wall. I invite you to go to the page "Framing". You will find all you need to know about this subject.
DRAWING
The framing of a drawing requires, to highlight it, the use of a passe partout which can be harmonized with the tones of the drawing. This way the drawing will not be put in direct contact with the glass. For the drawing to be well protected and not to gather dust, there is also a glass and a background for a perfect finish. For the drawings, the framing is often classic but, it is a matter of taste and everything is possible.
PAINTING
The paintings are usually framed with a simple frame without a passe partout. Nevertheless, there is the possibility of making a double frame to further enhance the subject and highlight it. There is a multitude of possibilities, colors, shapes, from classic to baroque style through modern. What to make a beautiful mixture of style that will beautify your home.
DIFFERENCES BETWEEN DRAWING AND PAINTING : WHAT IMPACT ON THE PRICE
In principle, the realization of a drawing is less expensive than the realization of an oil painting. Indeed:
- The time of realization is not the same. To realize a drawing is faster than an oil painting.
- The price of the material is not the same. Oil paint, canvas and brushes are much more expensive than the material for the drawing.
By visiting my prices page, you will certainly be able to find a match between your budget and your desire to commission a drawing or a painting.