"The Lords of the Time"
"Dare Dare",
Quick Analysis of a Work of Art

:

It was during her trip to Florida, in the USA, that the artist was able to observe these white ibises, magnificent birds with immaculate plumage and orange-red beaks, searching the mangrove soil or wandering on the fine sandy beaches, always in groups, busy looking for their food. On her return to the studio, she decided to create this painting and to give it the title "The Lords of theTime" because in contact with these birds, time seemed to be suspended.
Adopt a piece of art! Her store is so chic
To take home a part of her artistic universe, nothing could be easier! Go to his online store.
On his artistic store, are available for sale:
This original painting,
High quality fine art prints on paper, canvas
Prints : posters, magnets.....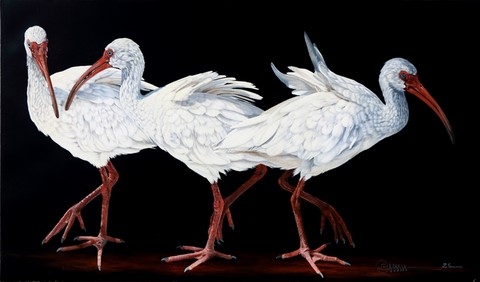 "Les seigneurs du temps"
Animal Painter and Woman Artist :
Laurence Saunois is a realistic and even hyper-realistic animal artist. Her oil paintings are studied to emphasize her subjects and her symbols. Often behind each painting, there is a story: an encounter, an observation, a moment of emotion.
Do not hesitate to contact her. She will be at your disposal to guide you and inform you about any specific request or order.