Talk about me

Mylène Demongeot
Que pensez-vous de l'oeuvre de Laurence Saunois ?
"Je la trouve tout à fait étonnante et j'ai un petit peu discuté avec elle donc je sais maintenant que ce n'est simplement qu'une partie de ses talents et qu'elle fait beaucoup d'autres choses, qu'elle est très éclectique et cette femme est étonnante. Je pense qu'elle est à suivre. Je pense qu'elle a vraiment un grand talent."
Mylène Demongeot, actrice
Brigitte Bardot

"C'est tellement beau ce que vous créez, c'est magnigique"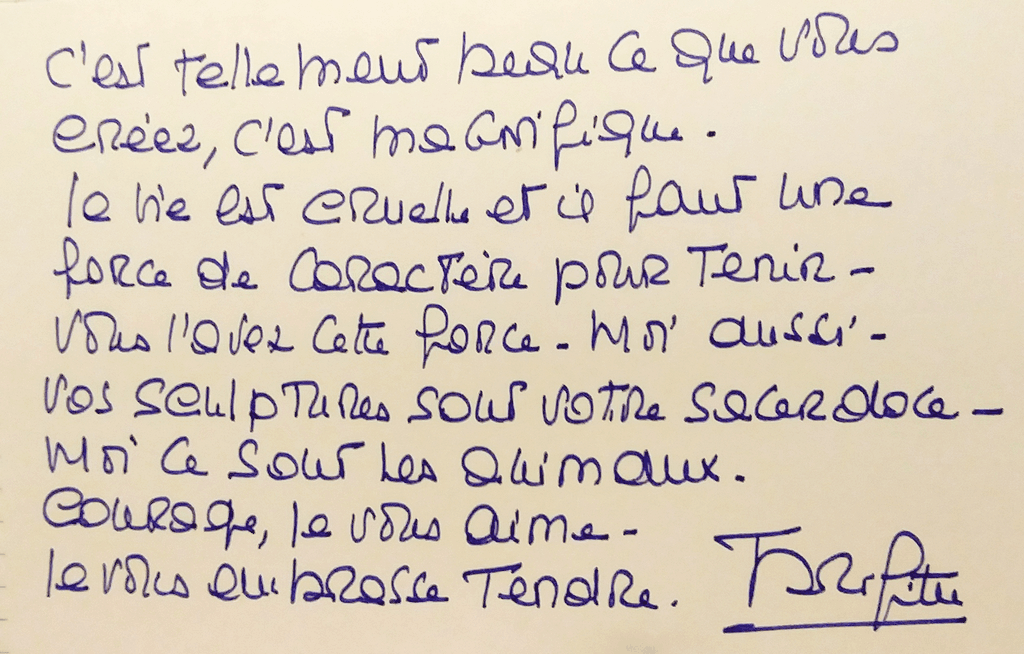 David J. Wagner

Ph.D. - Curator/Tour Director and Author, American Wildlife Art

"Her realism is so masterly and extends beyond the world of animals"
I have known Laurence Saunois since 2008 when I first selected her work to tour in the Society of Animal Artists traveling museum exhibition, ART AND THE ANIMAL, an apt exhibition since her iconography is mostly drawn from the world of animals. Though she'd only been painting as a full-time professional for a short time, her 2008 entry, which was her first entry, was selected by a jury of peers for The Annual Exhibition of The Society of Animal Artists (from which the ART AND THE ANIMAL tour is drawn). More work followed, and for the next 5 consecutive years, her paintings were juried into the Society's Annual Exhibitions. Her 2008 entry, entitled, Ne me laissez pas mourir (Don't Let Me Die), portrayed a polar bear swimming as if for its life, exhaling bubbles of oxygen with eyes closed under Arctic waters, not knowing allegorically which way to turn in the face of global warming. Few other artists in that exhibition had the foresight or expressed concern artistically about the implications of global warming. But Laurence Saunois did, and in a powerful way. The next year, her painting, entitled simply, Flamingo, was subsequently featured in the important 50th Anniversary Annual Exhibition of The Society of Animal Artists which was displayed at The San Diego Museum of Natural History, adjacent to the famous San Diego Zoo, where flamingoes, with their flamboyant colors and amusing behaviors, have welcomed Zoo guests since 1932, a fact obviously not lost on Laurence Saunois. I've also toured work by Laurence Saunois in the 2015-2016 tour of MASTERWORKS FROM THE INTERNATIONAL GUILD OF REALISM, another apt exhibition since her realism is so masterly and extends beyond the world of animals into landscapes, portraits, and still lifes for example. More recently, I've been struck by her current body of work, which she calls, "N.B.Cism" (N. for "noir" or black, B. for "blanc" or white and C. for "couleurs" or colors). A good example of work from this series is her painting, En amour, j'ai confiance (In Love, I Trust) a large work of a white dove, back-lit in silhouette with wings spread, dramatizing the artist's message of love, peace and hope, which is so needed in the world in the age in which we live today.
David J. Wagner, Ph.D. - Curator/Tour Director and Author, American Wildlife Art - www.davidjwagnerllc.com